Barry Bonds just hit his 756th career home run. Goodbye Hammerin' Hank Aaron's record. Hello controversy. FUCK. THAT.
I am not here to talk about Barry Bonds in relation to asterisks, steroids, grand juries, Home Runs, or even baseball. I'm writing right now because watching what I saw was sickening.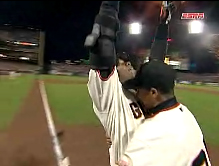 Barry Bonds just hit the home run that he was waiting his entire career to hit. He stood at home plate with his fists in the air for a few seconds, and then began to round the bases. As he rounded third, his son, also wearing a #25 jersey stood at home plate waiting for him. Barry arrives at home plate.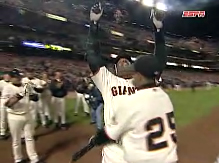 And ignores his son.
His son goes to give him a hug, and Barry stands there, receives the hug from his son, and raises his arms in the air in his own personal triumph. This was not going to be shared with anyone, arriving at home plate. This was for Barry and Barry alone. His son hugs him, is proud of him, and Barry ignores him completely.
And I am fucking disgusted. Because that's totally fucked. That's completely fucked. That is 100% fucked.
You are the home run king (and I use the term loosely) second and a father first. I don't fucking care who you are, you don't ignore your son at that moment. You should be so proud that your son was able to be there, you should look him in the eye and give him a hug, and then if you wanna raise your fucking hands in the air to take in the atmosphere around you, to revel in the moment, go a-fucking-head. But you do it after you've hugged your son, not before.
And then, you make sure to hug your son, rather than going to start hugging your teammates, leaving your son behind. He will never tell you how much it would've meant to him, he may not even realize why he didn't think the moment was as great as it could've been, but that's why, right fucking there. Family first, Barry. What you did, on national television, a picture that will be circulated for years and decades to come, was totally fucked.